Exergy ERP
Exergy ERP is a set of tools to manage your business. All tools are available within a unified online system. This ensures that our programs work closely with each other, either by sharing a database of customers or products or by the integration of the ecommerce store with invoicing and warehouse functionality.
As all our programs are included within a single system they inherit the common properties and functionalities provided by the Exergy ERP described below. Characteristics of individual modules of the system are described on a separate web pages available through the products menu on the right.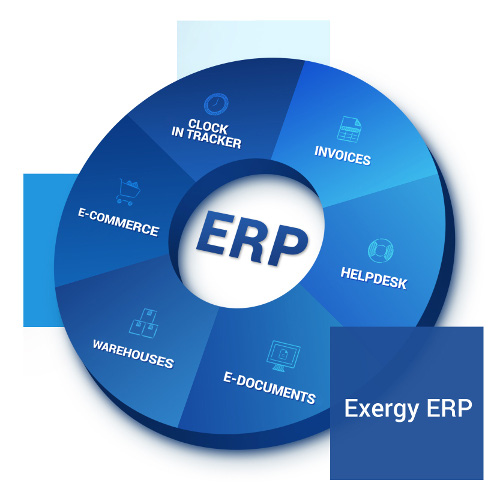 Key features and characteristics of the Exergy ERP:
Exergy ERP is 100% implemented using web technologies. This significantly reduces the maintenance costs and makes the system available on most devices with Internet access
Exergy ERP shares data between all its modules
Exergy ERP has an intuitive and modern interface, making it easy to use
Exergy ERP is based on the latest technologies from Microsoft, Google and Oracle
Exergy ERP allows for a very flexible configuration
Exergy ERP provides security role based access to all of its modules
Exergy ERP provides full auditability by logging user actions
Exergy ERP allows for branding and personalisation by creating your own graphical themes (skins)
Exergy ERP allows you to add notes and warnings throughout the system
Exergy ERP supports many languages
Exergy ERP is offered as a service (SaaS model) or as individual installations
Exergy ERP allows for integration and communication with external systems
Exergy ERP allows for migration of the data from the existing customer systems
Exergy ERP allows you to adjust the system to your individual needs
Please try the
demo
of the system we've prepared. There is also the possibility of preparing a dedicated and personalized installation to meet individual customer expectations. Should you have any questions, please feel free to contact us.
---
A short preview of Exergy ERP: